During the first half of my life I didn't recognize this sentence at all. Everything always fell into place in my life. There were setbacks, but they always resolved. My friends said: "It is always so easy for you". Was I such a Sunday's child? I wondered when would it collapse? I now know that I was living my life in confidence and trust, assuming "everything will always work out". And that was a good thing. But I didn't realize I was overlooking something important: who and I and what it is that I want: my purpose on this planet..
​
Until that black day in December 2013… But let me start at the beginning. My journey back to myself started here: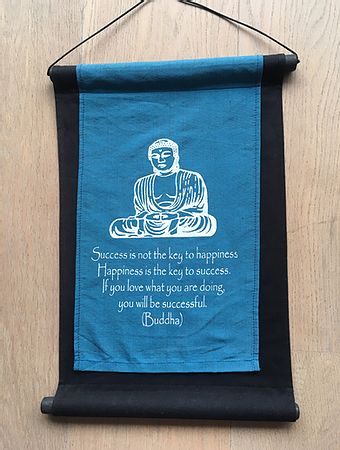 "Success is not the key to happiness, happiness is the key to success.
If you love what you are doing, you will be successful."
– Buddha
About seven years ago I was sitting in one of those hippie cafés in Ubud on Bali with my husband and children. On the outside we were a beautiful and apparently successful family: enough money to spend three weeks in Asia during the Dutch winter. My eye fell on this quote from Buddha and it struck me like lightning. I was deeply touched by these words and felt the truth wash over me as my children were bored and demanding attention. It was in this moment that I realized deep in my heart that I didn't love what I was doing. It was a sign. And in that little café, a seed was planted.
It took another two years before I fully woke up, as I had fully identified with the role of a successful businesswoman and the high income that came with it. In reality I was in a golden cage. With a little luck and a lot of struggle, I finally managed to free myself from the chains of external success (my job) and I was ready to be who I am and what I'm here to do (my purpose).
​
However, it turned out that more was needed. I had become so far removed from my true self that I couldn't hear the whisper of my heart. I had to clean up a lot more clutter and beliefs to be able to hear what my heart was telling me…
​
In retrospect it seemed like divine intervention got me back on my path. One dark day just before Christmas, my husband, the father of my children, suddenly left. He had found another woman. And there I stood. Everything was gone. My picture perfect life in tatters. No successful job, no happy family. I didn't even know whether I could continue to live in our house because I no longer had a permanent position. There it was: the collapse. Right in the middle of my life.
Time for rediscovery. After a year of grieving and staying afloat as a one-parent family, I decided to use this struggle as a springboard into my new life. To expand instead of limit myself and my life.
​
"Every setback, every failure, every heartache brings with it the seed of an equal or greater benefit." – Napoleon Hill
​
I got up again. My employer paid for an extensive outplacement program and I did every career and talent workshop under the sun. From drawing trees upside down with my left hand to horse coaching. During those workshops and training sessions it was already there, right there under my nose. I got clues from all directions, but I didn't see them. I was blind to the signals.
​
Why? And maybe you recognize this. I looked with my head, not with my heart. My mind, programmed with limiting thoughts, couldn't see anything. Subconscious, limiting beliefs blocked the view into my heart.
​
In the end, all the tools, coaching and exercises helped me to gain clarity. They helped me identify the deep-seated, limiting beliefs that were blocking my potential. I learned to connect with my true self, to believe in myself again and to have faith in my gift. In my mission, my purpose, my path. I transformed…
The power of your subconscious mind
The core of my work is that you are 'exactly right how and where you are', that you are enough. As long as you stay true to yourself. Because if you are true to yourself, you are free from outdated protection mechanisms and blockages. You follow your heart and are aligned with what you have to contribute to the world. It is my contribution to help you break through subconscious blocks and uncover your true desires. So that you can start living again. The life you deserve. That is meant for you.
​
I have the training and experience to guide you. To use the power of your subconscious to the maximum. Thanks to the wonderful connection between body and mind, we can unravel thoughts and beliefs, interrupt the limiting parts and empower the reinforcing parts. It's that simple.
You have to do it yourself, but as a coach and experience expert I am happy to help you with this. I know what it's like to get stuck in life. I woke up again after sleepwalking for so long. I have cleared blocks and obstacles. Now I am true to who I am, I follow my heart and I live my truth. I love what I do and I do what I love. And believe me, that gives so much peace of mind. I am living proof of the promise I make to you.
​
This is my passion, this is my contribution, this is what I have to do. I enjoy every deep connection with every client. I surrender to your process.
​
Lots of love,
Sandra